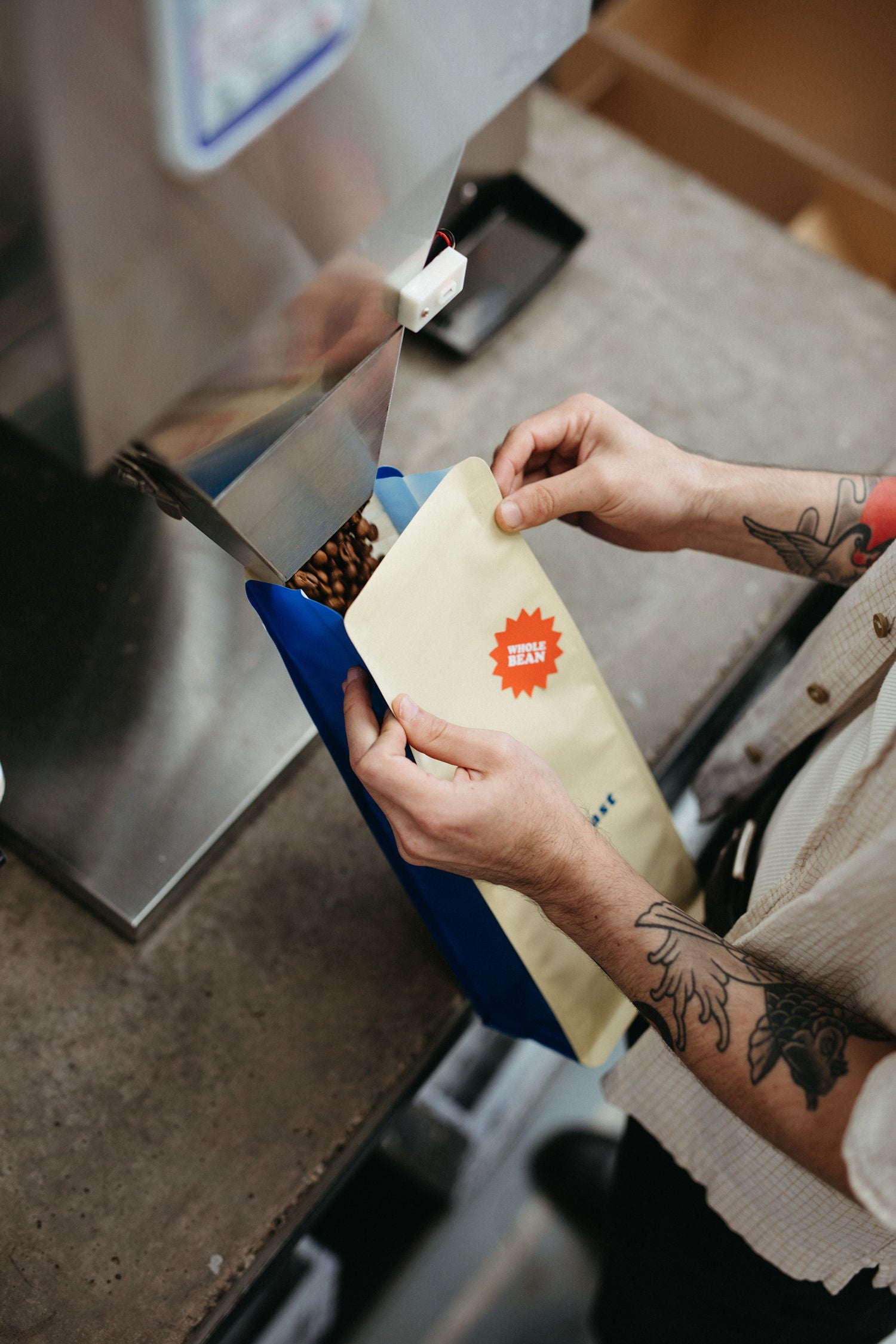 BARREL ONE – From specialty coffee to cafes and beyond.
There's not much that the award winning Barrel One Coffee Roasters Team can't do. They're currently running three popular cafes scattered across Sydney and recently launched an offshoot coffee label, The Breakfast Club, whose delicious roasts are featured this month.
Barrel One was founded back in 2012 by coffee and cocktail aficionado Daniel Agapiou. Daniel, who has always been extra passionate about coffee, is the head roaster and green buyer for Barrel One and surrounds himself with a team of equally enthusiastic coffee experts who produce some of the highest quality and rarest coffees from around the world. 
After a few years of running Barrel One and their Sydney cafes, Daniel teamed up with hospitality guru Samuel Graham in 2018 and the two of them created their offshoot coffee label, The Breakfast Club. Similar to Barrel One, The Breakfast Club focuses on high quality, delicious go-to coffee for cafes and home brewers alike. We're excited to sip on The Breakfast Club by Barrel One all month long!
Roasting delicious coffee may be Barrel One's main passion, but opening great local cafes is a close second. Since their first cafe launched in Brookvale, Barrel One's Daniel and Samuel have opened two more venues – one in Manly and the other in Cromer. All three cafes serve up a heavy dose of refurbished industrial warehouse vibes, making each a super unique space to enjoy a cup of coffee and a bagel. Speaking of food, gourmet toasties and American style bagel sandwiches fill the menu – the perfect nibbles to pair with a specialty coffee. We highly suggest that you visit one of their cafes if you live in Sydney or are visiting.
Barrel One is also extremely focused on being ethically responsible in their quest to roast the absolute best coffee around. They continue to support independent farmers, and the communities they live in, by working with self-sustaining co-operatives which make sure farmers are getting paid properly. In an industry where there are so many different moving parts this is incredibly important for roasters to pay attention to.
With all the amazing projects that Barrel One takes on, we're really looking forward to sampling coffee from their new label, The Breakfast Club.  So, sit back, and picture yourself relaxing in a groovy warehouse cafe mid-summer, in the Northern Beaches of Sydney, sipping an amazing coffee. Ah, bliss!
Milk & Honey Blend
ESPRESSO & CAPSULE COFFEE
Beans from Colombia and Brazil make up this beautifully balanced espresso blend. The Excelso grade beans, which are known to deliver exceptional sweet flavours and fruit notes, come from the famous coffee growing region of Inza in Colombia. Inza Excelso is one of Barrel One's stand-out Colombian coffees. You can expect juicy high notes followed by a hearty, dark chocolate body from a coffee that includes Inza Excelso. To complement the Colombian coffee, Brazilian beans from the volcanic micro region of Pocos de Caldas add some subtle complexity. Together, they create a magical rich yet fresh blend perfect for lattes and flat whites.
Coffee Origin:
Colombia and Brazil
Tasting Notes: 
Notes of deep hazelnut and toffee.
Espresso Recipe:
22.5g dose in
30g yield
In 25 seconds
Ethiopia Gelana
FILTER COFFEE
From the picturesque Gelana region of Ethiopia, this natural processed coffee is a tribute to the highly sought after bright citric characteristics that's common with coffee from this famous growing location. Once picked, the coffee is then processed at the Gelana washing station in the town of Yirga Chefe then dried on raised beds before being sent over to Australia where it's finally roasted to perfection by the Barrel One Team. Expect a well-bodied, balanced cup combined with flowery and spicy elements as well as an array of fruity notes.
Coffee Origin: 
Ethiopia
Tasting Notes:
Notes of dried figs, nectarine and vanilla.
Filter Recipe:
Water temperature at 94°C
Does 12g to 200g water
40g bloom for 30 seconds
Pour in 40g for 5 sec increments until it reached 200ml
Brew time 2 mins