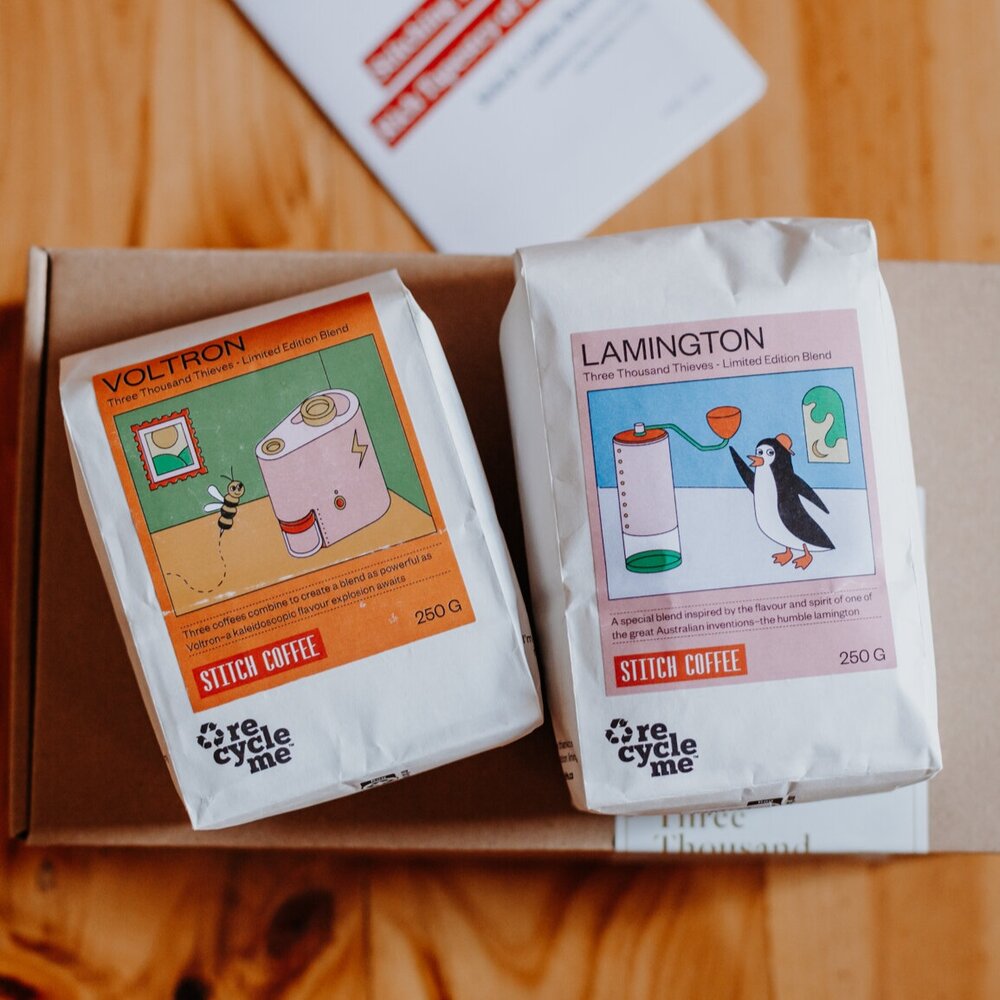 Stitching Together a Rich Tapestry of Diversity
This month's coffee feature hails from the creative team behind Stitch Coffee. Stitch roast their range blends and Single Origins out of their roastery in the inner-city Sydney suburb of Alexandria.

Stitch Coffee has one watchword that captures the essence of the company: diversity. According to Stitch Founder Nawar Adra, "we are a proudly diverse bunch – a mashup of genders, races, and life experiences; we have a lot in common, of course, but one thing more than the rest – a fanatical love of coffee."
"In diversity there is beauty and there is strength." - Maya Angelo
This idea of getting the best results by embracing the differences in people, places, and origins seamlessly extends to Stitch's view of coffee roasting and the coffees we are highlighting this month. Both our espresso and filter coffees this month are amazing blends, carefully selected to weave a flavour tapestry that makes the sum bigger than the parts. And wow, do these coffees deliver.

To quote Adra, Stitch has a real commitment to making their drinkers and their lives "a little bit better through the simple pleasure of good coffee, and to making the world a happier place through a commitment to sustainable packaging, sourcing, and workplace practices."

So on to the stars of the show: two special blends that showcase the power of diversity so clearly that… you can taste it! They are a celebration of coming together, and proof that the whole can be greater than the sum of its parts.
Espresso Blend
LAMINGTON: This blend is inspired by the flavour and spirit of the delicious Australian cake creation. A boring old English sponge cake was transformed into the vastly superior lamington by adding two exotic tropical elements: coconut and chocolate. In the cup, expect a smooth, rich decadence with a subtle and exotic fruity undertone.
Blend components
Brazil Caldas Royal - a smooth, rich flavour of chocolate and nuts – the most chocolatey of coffees grown in the land where cacao grows wild (coincidence?) (33%).

Guatemala Santa Rosa – a silky mouthfeel with praline and raisin, dessert in a cup (33%).

Colombia Popayan Reserve – a bold sweetness and baked apple notes neatly tie the bow on this delicious blended package, adding balance to the final beverage (33%).

If brewed on a commercial espresso machine:
Dose: 20g
Yield: 45g
Extraction time: 26-32 seconds
If your basket isn't the right size for a 20g dose, just multiply whatever dose you'd like by 2.25 to calculate the ideal yield.


Filter Blend
VOLTRON: Like the original Defender of the Universe, the components of this blend come together to create an explosive force. Expect a kaleidoscope of delicious complexity.

Blend components:
Ethiopia Chire Grade 1 - Brings bright fruit electricity like only a natural-processed Ethiopian can (10%).

Bolivia Julio Palli - A very special and rare single farmer lot out of Bolivia, that contributes delicate florals and nougat (10%).

Colombia Gaitania - A refined structure, crisp acidity and loads of sweetness help this Colombian lot to bring the team together (80%).

If brewed on a Hario V60, Stitch recommends: V60 pour over method =
Dose: 18g
Water: 300ml
Extraction time: 2 minutes 30 seconds
To brew a larger or smaller amount, just follow the ratio of 6g of ground coffee per 100ml of water and multiply accordingly.

We hope you love this month's coffee from Stitch Coffee Roasters as much as we do. It takes an amazing amount of skill to combine, blend and roast coffees this well, and like a beautiful mosaic, Stitch has delivered in spades. Enjoy!
KEEP IN TOUCH
@stitch.coffee
www.stitch.coffee