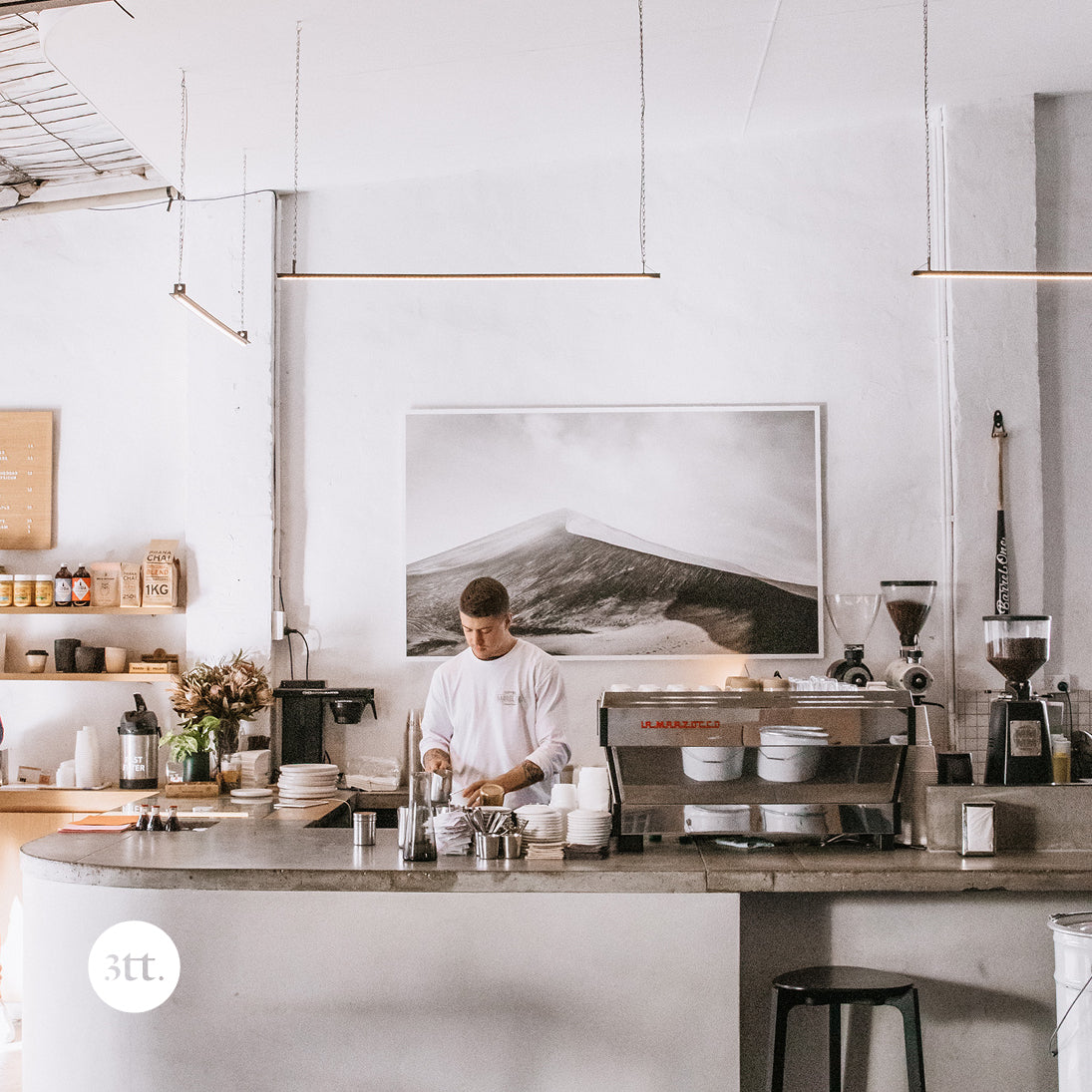 Barrel One Coffee Roasters - It's Always Sunny in Brookvale

SOLERO BLEND - LA RUDA, GUATEMALA, BLUE BIANCA, SUMATRA, INZA, COLOMBIA (ESPRESSO ROAST)
PENAS BLANCAS - PITALITO HUILA, COLOMBIA (FILTER BLEND)
Barrel One Coffee Roasters is nestled in one of the few remaining industrial areas of Sydney's Northern Beaches, in the suburb of Brookvale. Only the second New South Wales based roaster ever featured by Three Thousand Thieves, Barrel One stand out for the rarity and quality of their coffee, their passion and the amazing list of accolades the company has piled up since their founding.
Running the show at Barrel One is green buyer and roaster Daniel Agapiou. Daniel and his award winning team of coffee merchants and roasters have sourced and produced some of the world's finest and rarest coffees since 2012. After working in the hospitality industry for many years, Daniel decided to take the plunge and follow a personal passion to found his own coffee label. He started working in a cafe and roastery in Sydney that eventually led him to an origin trip to Tanna Island in Vanuatu. Looking back, Daniel describes that trip as a watershed event in his coffee journey.
"I was highly influenced by the people on Tanna Island and from that experience I was inspired to create something of my own."
Barrel One Coffee nurtures farmer cooperatives and estates that are self-sustaining. They back sustainable agricultural practices and source directlyfrom co-operatives as much as possible. Daniel and his team believe that independent farmers are critical to the success of artisan coffee industry.
For this month's stunning espresso offering, Daniel has selected the Solera Blend. This mouth-watering fusion of Sumatran, Columbian and Guatemalan beans is designed to cut through milky coffees, producing a nutty-bodied roast with notes of sweet cacao, dried apricot and raisin. "Solera has been a crowd favourite since its conception in 2012. We're constantly refining and improving this coffee, working alongside some talented coffee producers," says Daniel.
If brewed on a commercial espresso machine, Daniel recommends:
Dose: 23.5 grams
Yield: 38 grams
Extraction time: 24 seconds
For our filter fans, we think you'll love this coffee's juicy- sweet character. The Penas Blancas features notes of ruby grapefruit and red apple - followed by a smooth caramel mouthfeel to finish.
This coffee is super clean - just as you would expect from coffee grown in the Huila region of Colombia. "Penas Blancas is grown along the outskirts of Pitalito, Huila in an area surrounded by ancient oaks, mountain springs, and a vast forest reserve. The region is stunningly beautiful, just like the coffee," says Daniel.
Filter V60:
Dose: 15 grams
Yield: 200 grams
Extraction time: 2 mins
Alternatively, if you're a Moccamaster/Breville Home Brewer, try this recipe:
Dose: 70 grams
Yield: 1 L
Extraction time: 5 min
Barrel One is currently being showcased at The Coffee Movement in San Francisco for the American summer, alongside some of the best coffees on the Pacific West Coast. Their head roaster, Takumi Sakamoto, just took out the ASCA roasting championship in Melbourne and will be heading to the ASCA World Roasting Competition later this year.
We hope you love Barrel One Coffee as much as we do – and if you happen to be in Sydney's Northern Beaches, a visit to their HQ and Café for some amazing food is highly recommended!
KEEP IN TOUCH:
@barrelonecoffeeroasters
www.barrelonecoffee.com