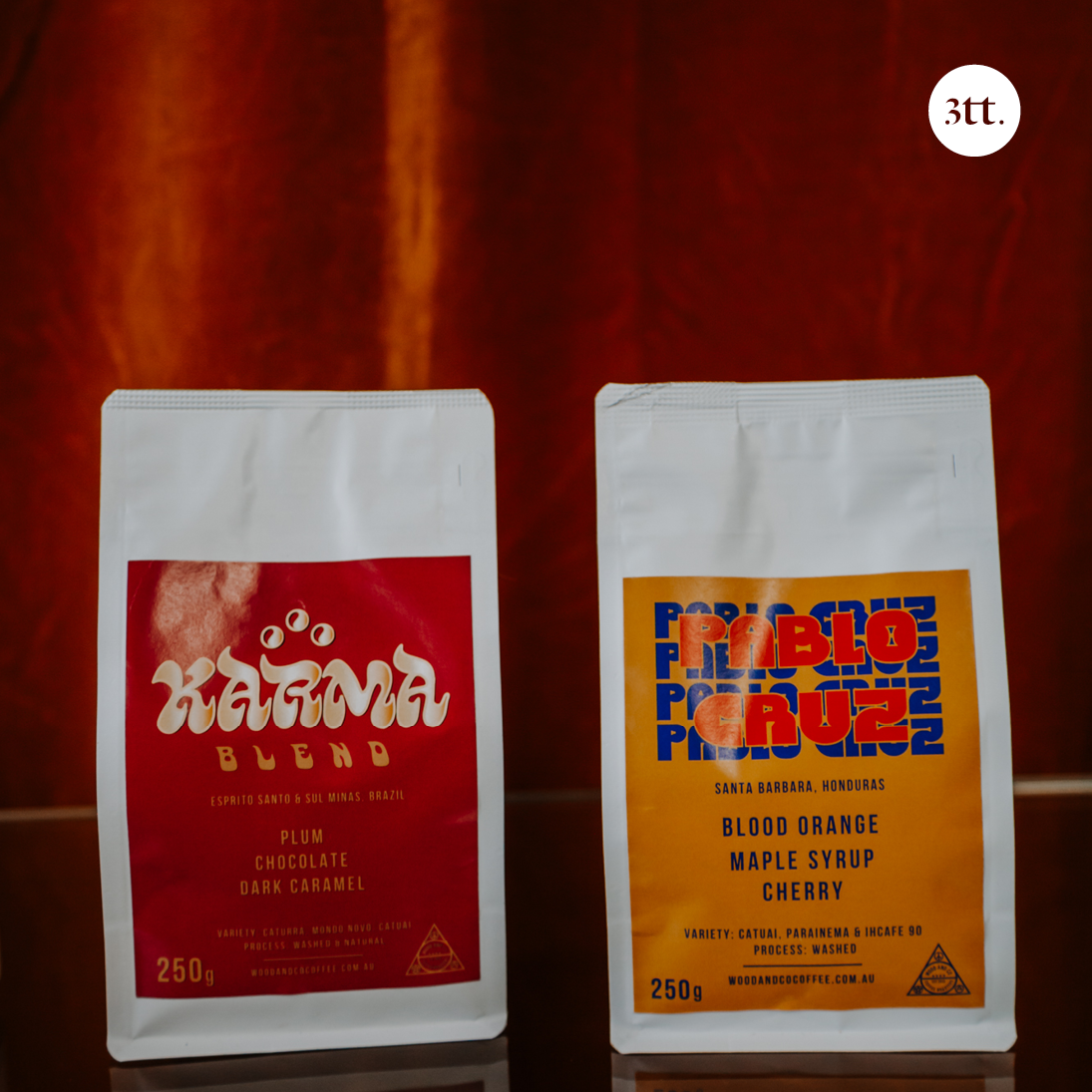 Wood & Co Spreading Good Karma (and some Pablo Cruz)
As artisan coffee flows freely throughout Australia's local cafes and homes, there is one Melbourne roastery that always impresses us for all the right reasons - Wood and Co. We've described them as a "cult classic" roaster with a cult following to match, and we stand by this sentiment. This month we bring you two Wood and Co. coffees that are sure to transcend your morning ritual. Since we last met up with this Brunswick, Victoria based brew crew, they've settled into a larger roasting facility in the heart of the suburb, yet have stayed true to their extra chill, relaxed vibe, even adding some homemade incense for anyone needing an extra bit of mellowing out. We met up with founder and head roaster, Aaron Wood, at the new space - which they call 369 Dreams - for their loyal followers dropping in for a refill of beans, a cuppa of their latest filter, a chat, or like us… all of the above.
One thing that never ceases to amaze us is the emphasis Aaron and his team continue to put on developing a close relationship with their green producers, the farmers and the growers. Aaron and his team want to have a personal and deep connection with the people that grow their beans, and with the place of origin.
This passion for the "people and place" of their coffees comes out in the care and attention to detail in the roasting process. You almost have a sense that Aaron views his crew in Australia and the growers at origin as all part of one continuous chain, and he's determined to roast with care and precision - to bring out the absolute best the coffee has to offer.
Aaron sat down with us and walked us through his process of hand selecting the beans to ensure a specialty grade. We also got to sit in on his meticulous cupping process for this month's batch, and we're sure you'll love the results.
For our espresso lovers we offer you KARMA.
A big, bold, and beautiful blend from Brazil, KARMA brings a punch to all black and white espresso based coffees, offering a menagerie of flavours; plum, chocolate and dark caramel. Rich in sweetness and syrupy in body, the mellow acidity of KARMA means it not only works a treat with traditional milks, but also with milk alternatives. KARMA is a dream to dial in; super tasty just like a luscious Sunday morning.
Espresso Recipe
Dose: 22g
Yield: 45-47g
Extraction time: 25 seconds
For our filter aficionados get a taste of PABLO CRUZ.
A renowned coffee producer from Santa Barbara, Honduras, Pablo and and his wife Emma grow Catuai, Paraiema and IHCAFE 90 varietals in a beautiful setting shaded by pantain and native trees. Not only is Pablo a third generation producer, he holds a huge torch for specialty coffees, championing quality practices, and his operation is regularly referred to as a model farm for sustainable specialty coffee. The beautiful result of this exceptional coffee identity is an intersection of delicately balanced flavours; blood orange, maple syrup and cherry. Pablo Cruz is your good morning, your good afternoon, and your everything in between.
Filter Recipe - V60
15g of coffee to 250g of water, 50g bloom for 30 seconds, 2.5 mins brew time.
For batch brew - 50g of coffee per litre of water here, using BrewRite or MoccaMaster brand paper filters, making sure you do a quick rinse before adding the coffee.
For Breville - if you can adjust temperature, we recommend running it at around 95-96 C and allow for 4-5 mins brewing time per litre.
Although he has a lot to shout about, Aaron remains one of the most chill and humble personalities in the business. He's designed the labels for both the coffees this month, and while they're full of big personality and colour, the Wood and Co logo remains in a subtle black and white, stepping back from the spotlight, so the coffee itself takes centre stage.
KEEP IN TOUCH:
@woodandcocoffee
https://woodandcocoffee.com.au/