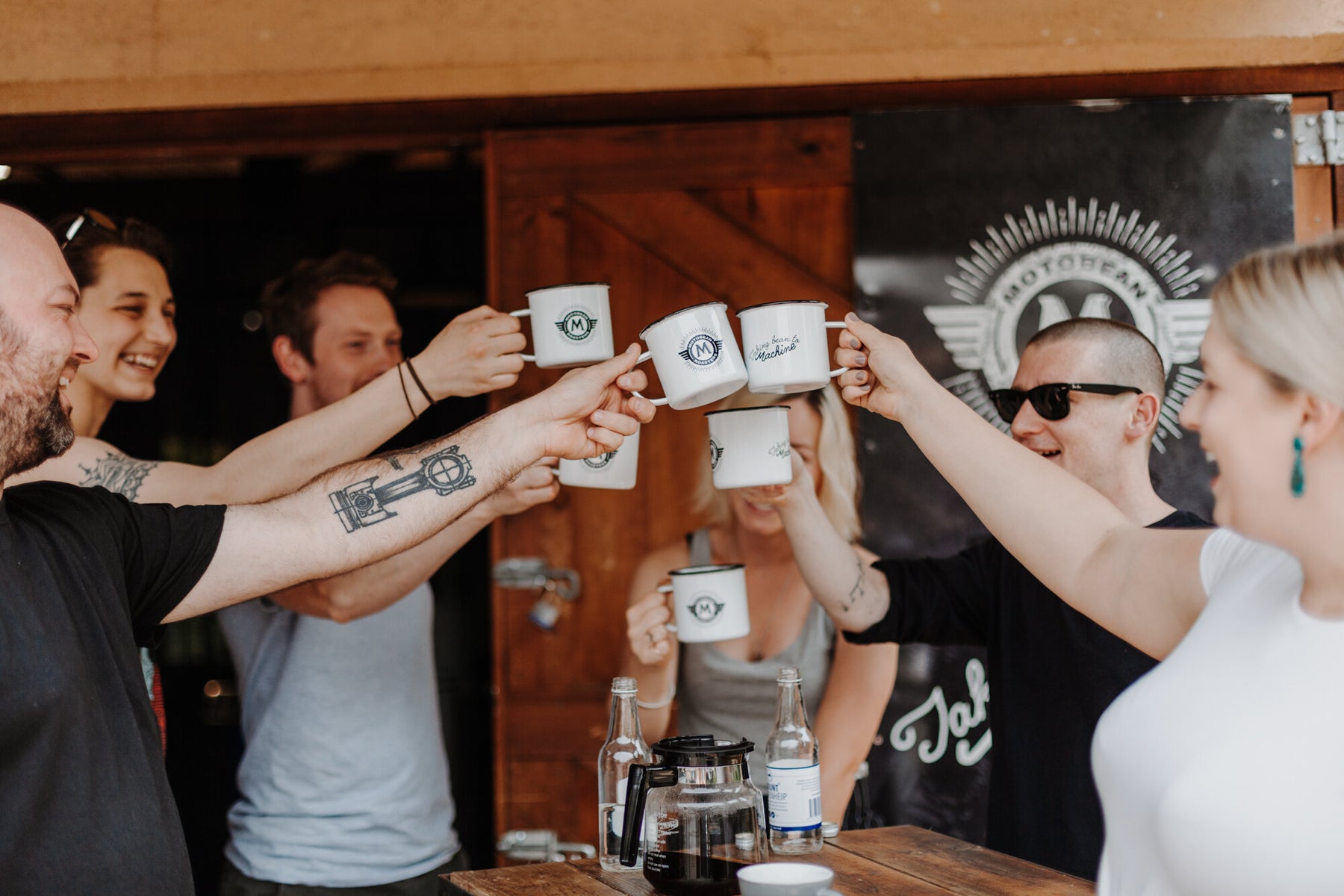 Motobean - Crafting a Caffeinated Community
Just over the Macedon Ranges in country Victoria, rolling into Motobean Roasters to talk shop with founding partners, Lachy and Laura Evans, is a much needed breath of freshly roasted coffee aroma.
Lachy and Laura have developed their love for each other over what must be tens of thousands of cups of coffee; celebrating ten years of marriage this year and five years of roasting sweet beans and sweet dreams together.
We are big Motobean fans (featuring one of their beautiful blends back in March 2019) as they are leaders in bringing the conversation about specialty coffee culture to regional communities in Victoria. In and around their home base in Malmsbury, they've noticeably changed the local brewing culture, bringing a sharp awareness to coffee origin, flavour and the stories behind their hand-selected beans.
When they're not cruising around on some seriously stylin' vintage motorbikes, this talented duo is all about creating a caffeinated community and are renowned for throwing the ultimate coffee party for their mates.
"It's such a communal thing, to share a cup of coffee with someone. It's an opportunity to step out of our daily lives and talk intimately, and ask "how are you really?". We love that down-to-earth aspect about what we do!"
For our espresso enthusiasts we bring you the Summer edition of the Motobean Seasonal Blend.
A flavour bomb trio of Nyeri in Kenya, Santa Adelia Farm in Brazil, and Huila in Colombia. These three coffees are traceable and ethically produced, plus feature the bright summary (should be: summery) flavour notes of mellow toffee, juicy berries and sweet caramel.
Espresso Recipe
Dose: 22g 
Yield: 45g
Extraction time: 30-32 seconds
For our filter fanatics we offer the Single Origin AB Coffee from Nyeri, Kenya.
Upfront the first thing you will notice is the huge amount of viscous sweetness that this coffee offers; it is almost like honey. You will then likely detect notes of grapefruit and citrus, which balance out that delightfully sweet body, followed by a slightly tart finish.
Filter Recipe
For a general coffee to water ratio, Lachy and Laura recommend 6g/100ml for this blend; and if you have one, they recommend using a V60.
Dose - 12g
Yield - 200ml
Temp - 95c Brew time - 50ml/30sec bloom then a further 150 ml over a total brew time of 2 mins 15 secs
"Do yourself a favour and take your summer coffee to the next level… enjoy this filter over ice. When cooled, it takes on more of a stone fruit and tropical vibe, which we really love. Summer living at its best!".
Laura and Lachlan believe that their success is due to sticking to their principles and never compromising on their commitment to ethical and specialty grade beans. Later this year they plan to travel to Brazil and Colombia to say G'Day to their beloved bean growers.
One new change that tickled our eco-taste buds is that by offering their cafe customers Motobean coffees in refillable tins, they're saving over 10,000 plastic coffee bags every year from ending up in landfill. Is it extra work to manage this sustainable initiative on their end? Sure! But they've never been afraid of a little extra elbow grease… on and off their bikes.
Brew and cruise guys! A match made in moto-heaven.
KEEP IN TOUCH:
@motobeanroasters
https://www.motobean.com.au/