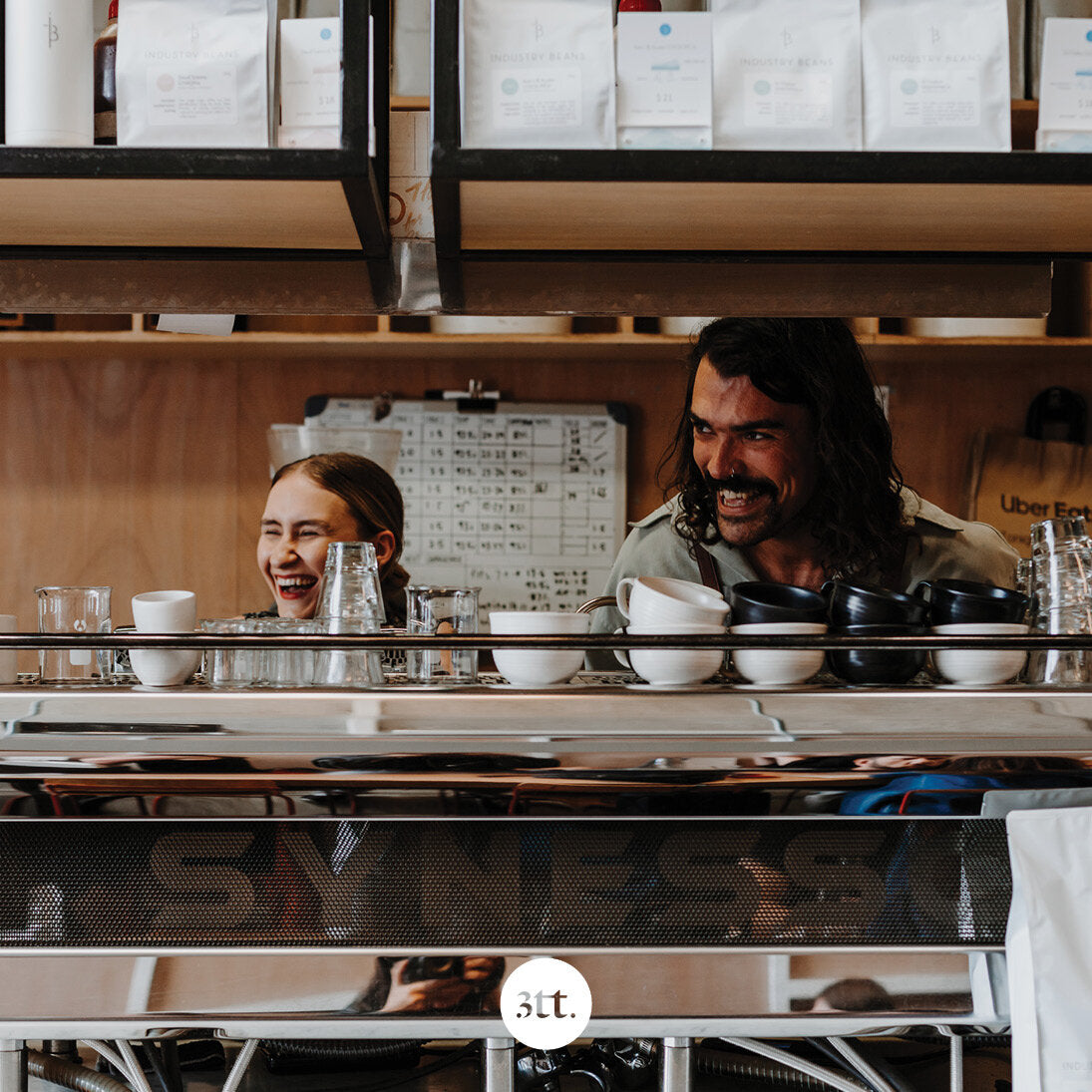 Industry Beans - 2020 Vision
As we step you into a new decade of coffee discovery, we've chosen two bold and beautiful coffees sure to set off some New Year sensory fireworks. These roasts are extra special as they celebrate a decade since the team at Industry Beans roasted their first batch of coffee.
Industry Beans' vision has guided them well for their first ten years of operation, "to roast high quality specialty coffee, in a carefully curated environment of transparency and accessibility, offering the ultimate coffee experience to the community".
Since we last featured one of their roasts with you in 2018, Industry Beans has expanded into Sydney and Brisbane, receiving a warm welcome from local coffee communities across the Eastern Seaboard of Australia. Their new and very unique space in Newstead, Brisbane, features a roastery, cupping lab, training room and coffee greenhouse - taking the coffee enthusiast from crop to cup, all under one roof.
The Industry Beans team is already setting a cracking pace for the New Year - and we couldn't be more excited to share the fruits of their success as we enter the 2020's.
For our Espresso Enthusiasts, we have the signature OG blend "Fitzroy Street", which has evolved over time while still keeping the intrinsic elements of its flavour profile intact. Comprising equal parts from a family run farm in the Cauca region of Colombia, with beans from a non-profit project in Runinya, Burundi, with an exclusive-to-Industry Beans lot from San Juan, Honduras. This blend presents a bright citric acidity, rich chocolate depth and a blackcurrant juiciness. It remains deeply aligned with the company's values of supporting the regions from which they purchase green supply.
Espresso Recipe
Dose: 17.5g
Yield: 34g
Extraction Time: 24-27 seconds
For our Filter Fans, we present the house favourite, "Nyakabugi" which comes from a community of 2000 cooperative members growing coffee in Kiambu County, Kenya. This particular region is renowned for producing Kenyan single origins with their tart green-apple-like acidity, syrupy body and berry-like sweetness.
This roast is one of the juiciest coffees going around. In order to bring out its full flavour, the roasting process is done at extremely high temperatures at the beginning of the roast, then tapered quickly over the finishing stages, preserving acidity while also developing a delicious brown sugar flavour.
Filter Recipe - V60
Dose: 15g
Total water 240ml
Water Temp: 95 degrees
Bloom: 45g for 40 seconds (agitate gently to saturate coffee)
Total Time: 2m30 seconds (finish pour at 1m 30 seconds)
Before we leave you to enjoy your scrumptious coffee, take note of the bag you are holding. As 3tt members, you are the FIRST official Industry Beans customers to enjoy their new recyclable coffee bags. By simply removing the small valve, you can pop the bag into your soft plastics recycling stream when finished.
Bravo Industry Beans - that's what we call 2020 vision.
Introducing Olmer Bollinger, Head of Coffee at Industry Beans, and his brewing expertise for this month's blends; Fitzroy Street and Nyakabugi.