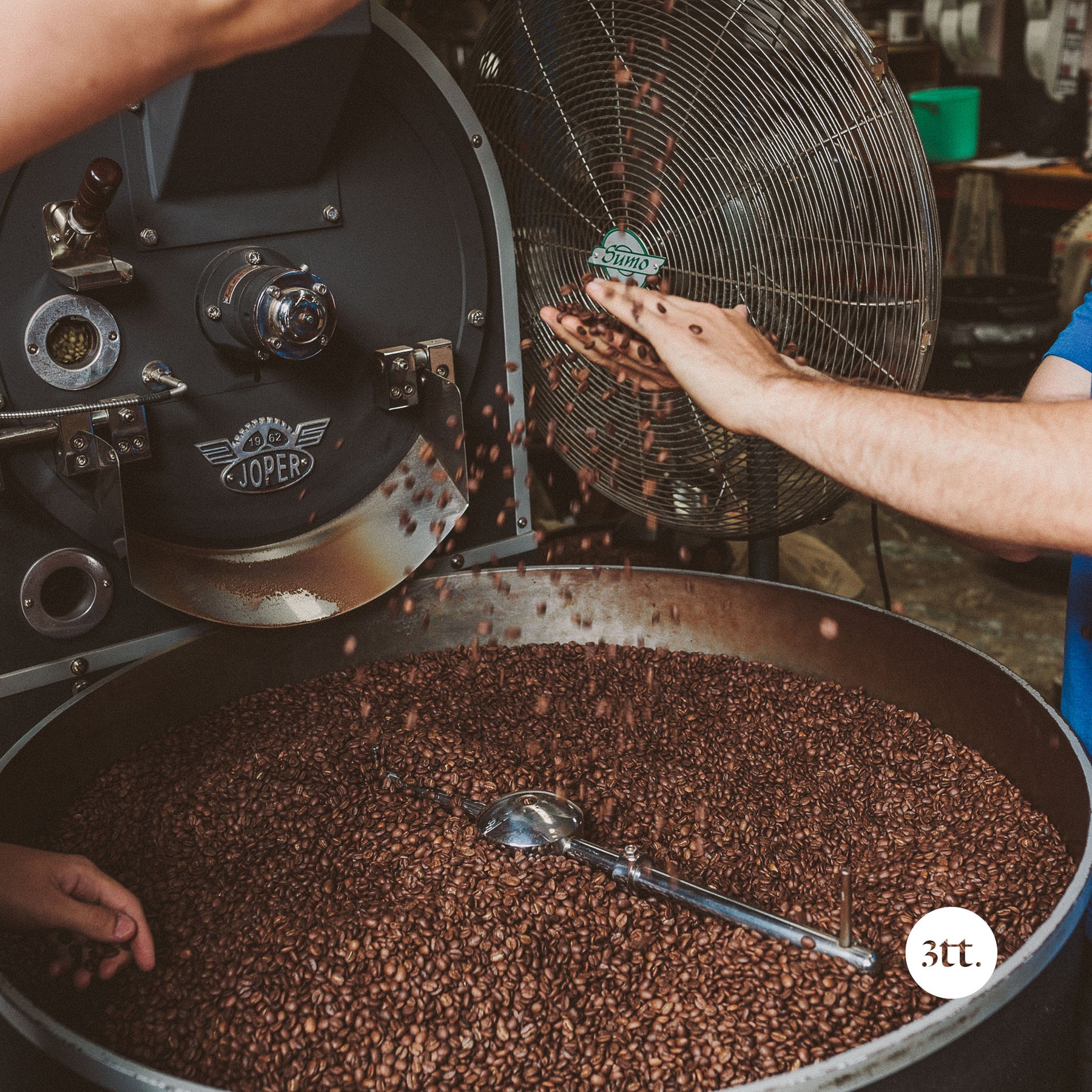 Uncommon Coffee for the Common Good

Sipi Falls Co-Op (Espresso Roast)
Young Blood Filter Blend
For anyone who has ever visited the area, it's undeniable that the Mornington Peninsula is one of Australia's most beautiful regions. Located just an hour out of Melbourne's CBD, the Peninsula is home to pristine beaches, world-class wineries, spectacular national parks… and delicious specialty coffee, thanks to Commonfolk Coffee.
Commonfolk was founded in a massive tin shed in the Mornington Industrial Estate about six years ago. From day one they've been obsessed with roasting the finest coffees in the world and serving them to their customers, community and industry.
We're super excited to bring 3000 Thieves members our first ever feature with Commonfolk, curated by Co-Founder Sam (aka "the Badger") Keck and Head Roaster Tommy Terlaak. But it's not only stunning coffee you'll experience this month; you'll also see how Commonfolk is so much more than just a roastery.
We chatted to Sam about Commonfolk's social and environmental focus. "We run an initiative called 'The Cup That Counts', which has donated 20c from every coffee we've ever sold," explains Sam. "Our staff also generously donate their tips and volunteer their time to run regular fundraisers (we really do have the most incredible team)! To date we've contributed over $100,000 towards sustainability in coffee." This includes funding the Zukuka Bora Coffee Company in Uganda, which has directly impacted over 20,000 people and reinvigorated the specialty industry in Mt Elgon.
Commonfolk have also supported vocational training for unemployed youth on the Mornington Peninsula through HomeGround, an independent social enterprise café. And if that weren't enough, they've also become a cultural hub, partnering with local artists in their very own "Commonfolk Studios". It's no surprise that they were crowned the Mornington Peninsula Business of the Year for 2018!
And it's not just Commonfolk's initiatives which will impress - this month's coffees are also sure to knock your socks off.
For our espresso fans, we have the Sipi Falls Co-Op, from the Zukuka Bora Coffee Company in Mt Elgon, Uganda. With notes of cacao nibs, cocoa butter and apple strudel, it's sure to keep you coming back for a second (or third) cup!
The Commonfolk team recommend the following recipe:
Dose: 24g
Yield: 48g
Extraction time: 30-32 seconds
For our filter lovers, we have the Young Blood Filter Blend (Worka Fully Washed / Konga Natural Gedeo Zone, Yirgacheffe, Ethiopia), with notes of plum, peach and lemonade. It's so good, you'll want to share it around. so why not try brewing coffee for two on a Chemex:
Use an 8 cup Chemex paper filter
30g of ground coffee
550-600ml of filtered water (just off the boil)
Brew for 4-5 minutes
If you want to scale down to a smaller brew, use a 6:100 coffee to water ratio.
We hope that you'll love this month's incredible feature with Commonfolk Coffee - we're sure you'll feel a little bit of the common good with every sip ;)
KEEP IN TOUCH!
Visit the Commonfolk Coffee Company café :
16 Progress Street, Mornington, VIC 3931
Instagram: @commonfolkcoffee
www.commonfolkcoffee.com.au