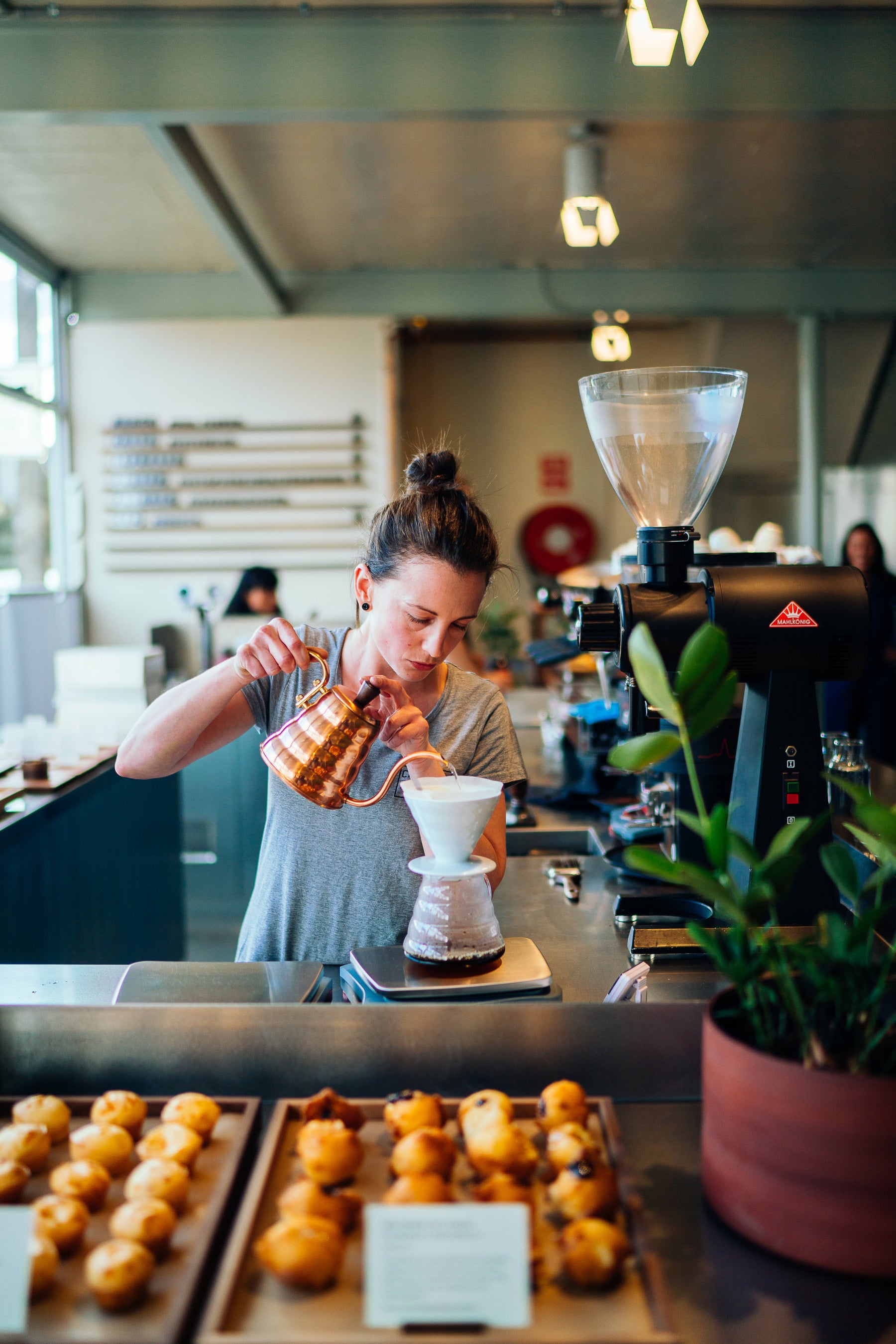 Clark Street Coffee Roasters - New Never Tasted So Good

Wallflower (Espresso)
El Salvador Finca Las Delicias (Filter)
In one of the few remaining industrial areas of Melbourne's inner-city suburb of Richmond, you'll find Clark Street Coffee Roasters. We've featured this stunning roastery in the past, and were blown away by their passion, vision - and of course, incredible coffee.
So what's new this time around? This month at Three Thousand Thieves, we have a very special double feature on offer: not only will members be the first in the world to try Clark Street's new and improved 'Wallflower' blend, we're also showcasing their brand spanking new Public Coffee Bar!
The lofty warehouse space has been designed by architecture firm 'Projects of Imagination', to showcase elements of galvanised steel, leather, timber and stoneware.
"The central idea was to create an experience for customers - a place where they can view the full coffee roasting operation, and also sample our unique, high-quality coffees as they're being roasted," says owner Melissa Floreani.
With an aim of bringing an amazing coffee experience to their roastery, Clark Street have achieved just that. Offering their full range of delicious, seasonal espresso blends, single origin espressos and filter coffees, customers can learn more about coffee production and processing; both through their huge roastery viewing windows, and presentations on Clark Street's 'flight trolley' - a new way to experience coffee from many of their specialty producers.
The team at Clark Street have also worked hard to bring 3tt members a world first exclusive - the launch of their new seasonal revision of the 'Wallflower', with new crop coffees in the blend! Very exciting stuff. Boasting a juicy palate of raspberry, pineapple and treacle, it's a sweet, vibrant and fruit-driven coffee that tastes amazing black, but also well-balanced with milk. 
Clark Street are very excited to be working with grower Jesus Ortéz from Finca Buena Vista (Nicaragua). Through soil analysis, biodiversity and selective harvesting, Jesus produces coffee that's sustainable, high quality - and a key component in this new revision of the Wallflower.
If you're brewing the Wallflower on a commercial espresso machine, the Clark Street team recommends:
22g dose, 53-54g yield over 30 seconds
They also find that splitting the shot creates just the right balance in milk, while also having the flexibility to be pulled as a double ristretto, or full double shot for those who like stronger coffees.
For our filter lovers, Clark Street are showcasing the Finca Las Delicias (El Salvador). A delicious filter option, this pocket rocket has stunning hits of sweet blackcurrant, lime blossom and caramel. 
Originally planted with the bourbon variety in the 1960s and later the pacamara variety, Finca Las Delicias is managed by Mauricio Escalon. By enacting a strong and thorough management plan, his workers are happy and productive; while native bird and wildlife flourish along with healthy soil and trees. As a result, Finca Las Delicias has achieved Cup of Excellence rankings in 2011, 2012 and 2017 - a sign of distinction in quality, only achievable through careful and sustainable farm management and coffee processing. 
For the El Salvador Las Delicias, Clark Street recommend:
12g of coffee, 250ml of water, a 50g bloom + 50g/30secs and 5 minute brew time
From new coffee, to a new coffee bar, Mel and the Clark Street team are creating a unique coffee experience on all fronts; a definite must-visit if you're in Melbourne. 
Visit Clark St Coffee Roasters:
73 Crown St Richmond, Vic, 3121
Instagram: @clarkstcoffee